The "Refer and earn" referral program provides our users with an opportunity to earn an additional bonus by advising LetyShops to their friends. Tell your friends about LetyShops and present the bonus to them!
Advantages of our referral program

Refer LetyShops to your friends and receive the bonus for that. If a friend of yours registers through your referral link, they receive the same bonus amount. You can invite as many friends as you want. The more friends use your link, the more bonuses you earn!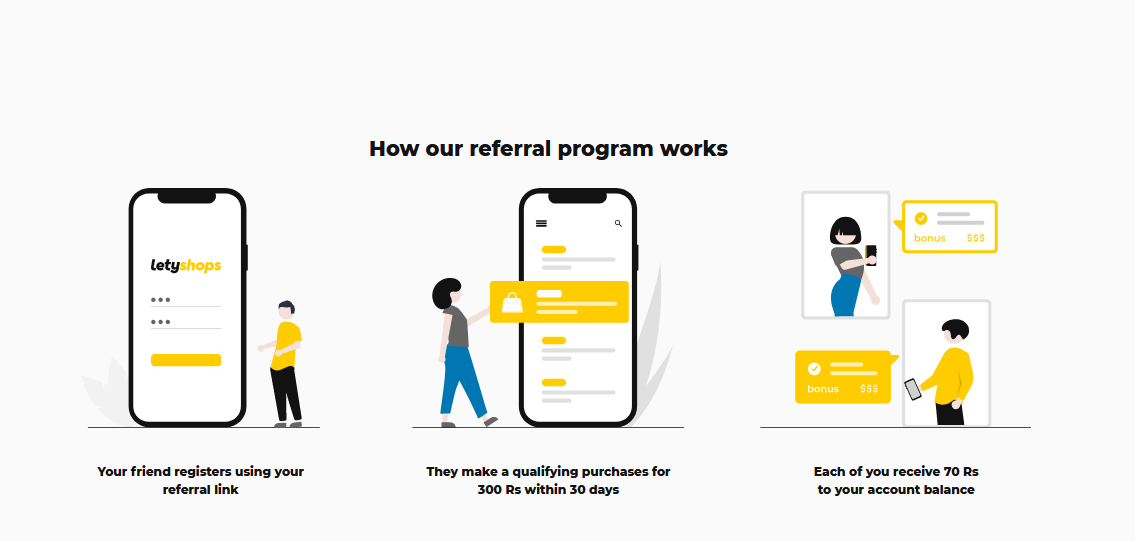 Copy your referral link and share it with your friends:
Your friend registers using your link.

They make a qualifying purchase for a certain minimal amount within 30 days after registration. The purchase can be made as one order for the required amount or as several purchases for small amounts made on different days.

As soon as cashback for your friend's purchase or purchases is confirmed, you both receive the bonus to your account balances.
How to share your link?
You can share your link in any way you like. You can use any messaging app for that, post it using your social network accounts or add that to description of your videos on YouTube.
Please pay attention! You can share your referral link only as a private person using your own name since it is your personal recommendation. You are not allowed to create mobile apps, extensions, groups in social networks on behalf of LetyShops and using the LetyShops logo, and so on. Please check here for more details.
Referral program statistics
Here you can find information about your friends registered via your referral link. Under the "Bonus pending" section you will see the bonuses for the friends who have made qualifying purchases within 30 days after registration and whose cashback for such purchases is waiting for confirmation.
The more friends you invite, the more bonuses you receive
Everybody benefits from our referral program! Your friends can save their money by shopping online with cashback and receive bonuses for being invited by you. And you earn bonuses without making any purchases. Do the best you can with our new referral program!
Please pay your attention:
1. Our new referral program is available only for the following countries. If a friend invited by you chooses a country not presented in that list while registering at LetyShops, you both will not receive any bonus.
2. To receive the bonus your friend has to register through your referral link. If your friend opens your link using a browser in their smartphone, the following options are available:
- to install the LetyShops mobile app using the special section on the page that will open and register using the app;
- to register without installing the app.
Your friend can choose any of those, though they have to remember that the LetyShops mobile app has to be installed ONLY using the special section.
3. To receive the bonus your friend registered through your referral link should make purchases with cashback via LetyShops in the shops of our partners.
4. Any options included in Lety codes that reduce the minimum withdrawal amount are not functioning until the referral program bonus is withdrawn from the account balance.
5. The referral bonus is credited only for those orders that automatically appear in your friend's account. If cashback was lost and manually credited to your friend's account balance after they contacted our customer care service, such an order will not be considered as a part of the qualifying purchase.
Please be aware that the new referral program is available only for your friends registered after 7/07/2020.
Any referrals registered before that date are subject to our previous referral program.